Hot Desk & Coworking in Beverley.
No commitment or membership fees, just book a hot desk when you need it!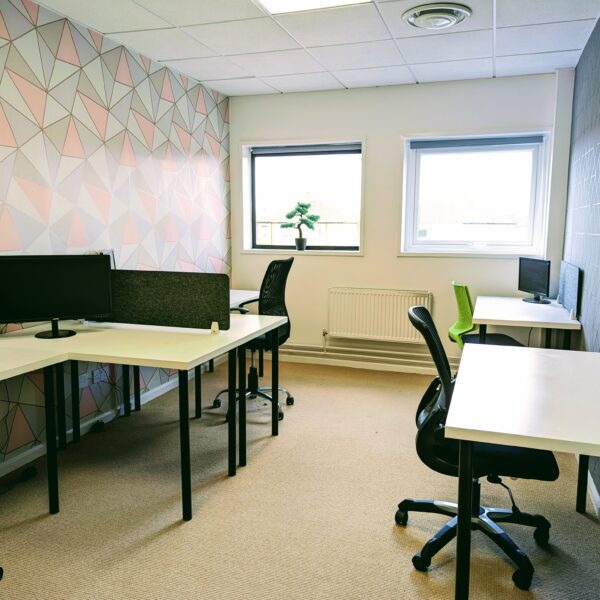 Benefits of working in a coworking space
No longer do we have to choose between working in the corporate office or having to work in the comfort of your own home, you can now have a mix of both when working at Waffle21's coworking space. This new way of working can change the way you work forever!
Whether you choose one of our private office spaces or one of our hot desks, the creative shared spaces of Waffle21 immerses you into an environment of community and can aid in healthy business growth, increased wellbeing in turn creating greater work output, we could go on about the many advantages of working in a coworking environment but we will let you know a few of them.
Community & Networking
Being a freelancer or running a small business can be difficult and very lonely when you don't have a sense of the community workplace, with Waffle21's coworking space you can still work by yourself, but you won't be alone. We will introduce you to other individuals at Waffle21 who can hopefully help you and vice versa, when other companies require services like yours, we will make the connection happen for you.
Money Saving
Starting up and running a small business can be rather costly with overheads spiralling out of control, using Waffle21 you can eliminate many of these costs as a lot of your bills will be rolled into one cost effective bill, so you wont have to worry about various service providers or utility bills, we take care of all of that for you.
Productivity
Waffle21 creates an environment that gives you more structure than working from home but without the hecticness of the corporate office. You won't get all the distractions at home which in turn will create more productivity and hopefully a shorter working day. You will also be surrounded by like minded people which will boost your motivation. At Waffle21 you will also have access to meeting rooms so you can bring the meeting to you saving time travelling.
New Business
Waffle21 creates a great business community which in turn creates a constant stream of networking opportunities creating new business connections. Many co-worker's at Waffle21 meet new connections within days of using Waffle21. Our co working space can easily give your business more exposure to potential new clients or finding new people to work alongside making you able to take on more work. That person you need maybe sitting right next to you!
Diversity
Unlike a standard office Waffle21's coworking space is the home to various members and tenants working for a broad range of companies. This amazing environment enables you to get an insight and collaborate with likeminded professionals and entrepreneurs in different industries.
Flexibility
A lot of businesses and freelancers don't want to commit to the standard long-term office leases with massive deposits. At Waffle21 you can hire a desk from as little as 4 hours, a private office for 1 day or a dedicated office from as little as 1 month. This way you can choose what works for you and your business. Got a heavy schedule on the road or at meeting then simply don't pay for space.
Increased Well-Being
The balance between work and life is becoming more important, and also difficult to achieve in the common office environment. Waffle21 promotes a healthy work-life balance, with our breakout areas to get you out of the office an onsite bistro for lunch and snacks, relaxing out door areas, you are able to do your job in a healthier and more relaxed environment. Happy people make happy businesses!